Know what you stand for and lead
A member of a Parliament is not just a job, it's a vocation. Politics is a noble profession and most MPs regardless of political colour aspire to serve in the Parliament for all the right reasons. One of the greatest challenges to our democracy is antipathy and apathy. Every time I hear a journalist or commentator pontificating about politicians and trotting out tired old slogans such as "It's a race to the bottom" I want to slap them down. If journalists don't like the standard of the debate they might start in their own backyards. The hypocrisy is breathtaking. Some of them I would like to take to countries where there is no freedom, no vote, no rule of law, no jobs, health service or infrastructure. Some politicians let us all down but in the main the rest work 24/7 towards making Australia a better place and sacrifice their marriages and home life in the process. If the public applied the same standards to themselves as they do to politicians the community would be far better off. Politicians, journalists and the public should wean themselves off the 24 hour news cycle and let go of their addiction to the polls. Polling has its place but not to the point where come Sunday evening everyone in the game is on the edge of their seats waiting for the latest Newspoll to compare with the latest Fairfax-Nielsen and Morgan polls. The community needs politicians with conviction and at times that means running contrary to public opinion. Politics should be about leading - not following.
In a public duel with Labor activist Bob Gosford on the ABC, and in the NT News, my opponent said and wrote of me:
"I never voted for the CLP and most likely never will….but I respect Stone… deserves his due because he prosecuted his policies with a courage, commitment and enthusiasm not seen since from either side of politics".
Nice of him to say so - a sentiment picked up in the NT News Editorial following my retirement. The moral is that if you want to succeed you must know what you stand for and prosecute your policies fearlessly. You must be a warrior for your side of politics; fearless and unrelenting in pursuit of what you believe in. Recently, former Prime Minister Keating claimed ''Politicians come in three varieties: straight men, fixers and maddies''. For me, leaders divide into managers of the status quo and those who have a swing. I was there for a short time determined to have a swing.  If you want to win and achieve power to implement your platform then follow the script: first develop your policies; second, act with conviction; third, inspire confidence; fourth, speak plainly. If the people don't know what you stand for quite frankly you probably don't either. Get the policy right and the politics follow.
General Election 1990
Unlike the Sadadeen pre-selection, the Port Darwin contest for CLP endorsement was straight forward - I was the only candidate. With the humiliation of Sadadeen still fresh in my memory, I was very focused and determined to win. Following my pre-selection being confirmed by Central Council I stopped work to concentrate on the election; Graeme Buckley's support in this period was critically important. The Darwin Branch under the Chairmanship of local barrister John McCormack was enormously supportive. I pounded every door, not once but some three times. Nick Paspaley threw his weight behind me. The theme of the election campaign was:
'Labor No Way'.
Armed with my calling cards it was back out onto the street and those damn dogs. The only consolation was that Darwin people didn't seem to have as many dogs and they seemed more friendly than their barking cousins in the Centre,
Andrew Liveris and Fred Canaris devised a strategy of street meetings. People would make their home available and the neighbours would be invited to meet over a drink or two. Invariably, I had already door knocked many but this was positive reinforcement. Frank and Julie Lam would deliver the catering. Port Darwin was 'old Darwin' and I needed the old timers like Joe Fisher, Rex Jettner, and Lily Ah Toy to back me in. The Withnall, Tambling, James, Harris, Giese, Paspaley, Liveris, Randazzo, Venturin, Jettner, Saavas, Fisher and Perkins extended families were the key to electoral success in Port Darwin. Lou Squires and Yogi Griesback put up all my signs as they did every election thereafter; they patrolled at night to make sure the vandals were kept at bay. I knew that Stuart Park was a tough call; I hadn't yet forged my grand alliance with the Greeks but with the committed support of Barney Kyriacou, Nick Vazanelis, and their extended families, we worked the suburb day and night. Come the poll, Barney and Nick worked the Stuart Park booth all day with devastating effect. Not much fun being the Labor candidate if you couldn't speak Greek. The Mousellis family joined in and remained steadfast throughout my parliamentary career. John Mousellis has remained one of my closest friends.
The Chin and Jape families living in Stuart Park got behind me and with a grand coalition we were making headway. Others also came on board. Geoff McGill helped fit out a box trailer to create the Shane Stone barbeque. It was one of the best mobile advertisements going used extensively by community groups in my electorate. Brian Measey made sure I had prominent signage along the Stuart Highway and Wayne Thomas made cars available and 'oiled' the campaign machine along the way.
I believed at the time the real competition was not Territory Labor but the high profile independent Green Lady Kearney aka Jessie wife of Supreme Court Justice Sir William Kearney. She attracted the support of the upper echelon of Darwin polite society but they turned out to be fairly thin on the ground. As matters transpired, my fears were misplaced. In any event I nervously awaited the call on election night – thirty minutes in and Port Darwin was declared for the CLP. I remember the sense of relief and excitement – I had to sit down. Surrounded by well-wishers and supporters the hour had come.
Member Legislative Assembly and Minister
I served as a member of the NT Legislative Assembly from 1990 to 2000. I made my Maiden Speech on 4 December 1990. On election, I was appointed to Cabinet by Chief Minister Marshall Perron and served as a Minister in his Government from 1990 to 1995. See Archives Documents for my list of Ministerial appointments.
In picking over my parliamentary career I hope that what stands out in my story is commitment. First, I came to office with a road map: a clear understanding of what I wanted to achieve. Second, I knew what I stood for and my convictions as a politician came first regardless of electoral consequences. I proved that in the euthanasia debate. Third, I was noted for my determination and perseverance (dismissed by my critics as arrogance and over-confidence). Finally, I was consistently under-estimated - the greatest foil of a politician if you can master it. I left office with my integrity and reputation intact regardless of whether you agreed with my policies.
With a great sense of excitement and anticipation, I finally commenced my parliamentary career. What appeared elusive six months earlier had unexpectedly become a reality. Politics is full of such turn of events; there is a lot of luck in politics – the harder you work the luckier you become. I remain forever grateful to Marshall Perron for affording me the opportunity to step straight into the Ministry; he did likewise for Max Ortmann.
The Executive was based in NT House as the construction of the new Parliament building still had a way to go. Following the announcement, I went to see Marshall to get my riding instructions. There are two things I noted at the time. First, he appeared relieved to have won. It was his first contest so I appreciated his candor although I was privately surprised he thought it would be otherwise. I asked how I would know what to do as a Minister. He was very matter of fact in assuring me that I would pick it up as I went along. I bumped into Mick Palmer in the foyer on the way out. He was angry that he didn't make the Ministry. Here I was new on the Assembly block and Mick had been around since 1983. I liked Mick and my sense of excitement and self-congratulatory sentiment gave way to a new reality. In politics, for every winner there is a loser. In this case it was a mate although the decision was not of my making. In time, Mick would go onto a very successful career in my Government but Marshall was no fan.
Port Darwin Electorate Office
My first electorate office was Tom Harris's located in the Star Theatre Arcade (where Tom's father had formerly run a picture theatre). I happily agreed to keep Elizabeth Eustance as my electorate secretary. Elizabeth knew everyone, was across what to do and was very good at her job. She served me and the CLP well over many years before pulling stumps of her own accord. She was followed in by Pearl Ogden who stayed the longest, off and on. I was keen to move the electorate office to Stuart Park where I was weakest electorally. I did finally manage that outcome and, over three elections, built Stuart Park into a bastion of Stone CLP support. It is no coincidence that when my successor as Member for Port Darwin moved the electorate office into the leafy suburb of Larrakeyah the seat was lost to Labor but not for this reason alone.
The contribution of electorate officers or electorate secretaries, as they were then called, are not to be under estimated. They are the direct conduit to the broader electorate and can make or break you. As a busy Minister I was entirely dependent upon the the capacity of Elizabeth Eustace and Pearl Ogden to connect, work and massage the electorate in the same way Marshall Perron had relied on Dorothy Green. Later, Pearl was assisted by former Minister Roger Steele who joined my personal staff following the 1994 General Election. Roger had been the consummate constituent politician. It's not stretching the truth to say that many an elected member only held their seats because of the tireless efforts of their electoral officers.
Local Member for Port Darwin
It would have been easy to focus on the Ministry and pay nominal attention to my duties as a local member. That would have represented a major failing on my part and betrayal of the trust placed in me by the CLP. Port Darwin was the ideal electorate for an MLA - CBD based, the Parliament down the road, and I lived less than a kilometre from the office. The first priority was to move the electorate office to Stuart Park. This was my 'tiger country' and would prove critically important in the time ahead. My electorate was diverse - there was old Darwin, Defence families based at Larrakeyah, a floating population of newcomers in the CBD apartments and the ethnic communities who dominated Stuart Park. Child care centers, public and private schools serviced the electorate, and beyond. Many public servants schooled their children in the CBD as a matter of convenience notwithstanding they lived in the rural area, Palmerston and Northern suburbs. An active local member in Port Darwin had a wider audience than his own constituents.
The Dinah Beach Cruising Yacht Club was in my electorate and, although the membership was spread throughout Darwin, the club was an important venue in reaching a wider constituency. For the ten years I was the Member for Port Darwin, Dinah Beach was the recipient of financial support and grants to improve the facility. In 1997 I presented the club with their perpetual lease.
I worked the Larrakeyah base as best I could given the constraints imposed by the ADF and mindful not to abuse my role as a Navy Legal Officer as I had full access. I was especially grateful to Commander NORCOM Brigadier Chris Roberts and Judy for their active support. Unfortunately, many ADF personnel came and went in short postings and were never registered to vote in the electorate.
My active engagement of ethnic affairs brought me into regular contact with my constituents, likewise the Arts portfolio. The use of the old Darwin Primary School - 'frogs hollow' - for visual arts and the relocation and refurbishment of the outdoor deck chair theatre provided ample opportunity to mix in with local constituents. School visits were regular both in my local member capacity and as Minister for Education. Former Minister Roger Steel was assigned to my ministerial staff and did a first class job of profiling local constituents and electorate events for the Adjournment debate. My prolific contribution to the Adjournment debate was driven by Roger Steele who cast the net wide. Elizabeth Eustance, and later Pearl Ogden, ran Electorate office morning teas and visits to Parliament House which, conveniently, was within the Port Darwin electorate. I succeeded Tom Harris as Patron of the Darwin Pensioners & Senior Citizens Association at Spillett House and was a regular at Tracey Lodge and the Salvation Army aged care facility in Gardens Hill.
I regularly hosted senior citizens at my electorate office and at Parliament House. Seniors were core supporters of the CLP. Over time, my staff and I had all the bases covered which reflected favourably in subsequent general elections during my tenure. On my first outing on 27 October 1990, the CLP held the seat with 51 percent of the vote. In the election held on 4 June 1994, the CLP had lifted the vote to 60.2 percent. In my final showing on 30 August 1997, the CLP held Port Darwin with 64.5 percent of the vote. Our strategies in Port Darwin paid electoral dividends. In the by-election held following my retirement on 11 March 2000, the CLP held the seat with 51 percent. In the general election held 18 August 2001 the vote came in a very respectable 56.9 percent but was lost in the 2005 election with a vote of 48.9 percent. I am pleased that John Elferink won Port Darwin back for the CLP and has held it convincingly since.
Minister
Over time I held a range of portfolios including Attorney General, Minister for Industry & Development, Minister for the Arts, Minister for Ethnic Affairs, Minister for Education, Minister for Asian Relations & Trade and Minister for Mines & Energy. I was Chairman of Australia's 10th Cultural Ministers Council in 1994 and kept the Arts portfolio throughout most of my Ministerial career. Prior to election as Chief Minister, I was appointed the Leader of Government Business; an important assignment for all who aspire to the leadership.
I set out in some detail the matters that occupied me most in successive portfolios in the next Chapter.
Cabinet Meetings
I don't enjoy long meetings so the prospect of sitting in Cabinet with colleagues droning on endlessly about issues was a challenge. Occasionally, something would land on the table that was compelling. Marshall Perron was a very patient chairman of Cabinet. There were a number of times I wondered why he didn't just tell some of them to get on with it. This probably explains why he lasted longer than me in the job. Early on in my Cabinet career the sale of the Sheratons came to Cabinet. The NT Government had established the Sheraton Hotels at Ayres Rock, Alice Springs and Darwin as part of the tourism infrastructure of the NT. There had been sustained criticism by the Labor led Opposition to Government ownership over many years and the time had come to divest our interest. We were losing the argument among a new generation of Territorians who knew little about the period before Self-Government and the early years of the Territory's development. The NT has a very big turn over and we found we were forever on the back foot explaining why we had invested in such commercial infrastructure. On one view of it, Governments should never engage in such undertakings; these are matters for the private sector. On another view, and one I shared, unless the then CLP Government had embarked on the Sheraton venture we would never have achieved the critical tourism infrastructure that exist today.
A Cabinet submission came to sell the assets; as Marshall Perron went around the room and asked my view, after initial hesitation I said I didn't have one. The biggest transaction I had ever engaged in was to buy and sell my own home. I felt embarrassed and inadequate to the task. After an awkward silence, Marshall agreed and the Cabinet Submission was deferred so that we might obtain further and better external advice. It was a valuable and important lesson and one I have carried into the Boardrooms of companies I now serve.
If you don't know say so - don't try to bullshit your way through because you will come unstuck every time. If you think external advice will bring clarity and certainty to the decision making process then act accordingly. No one in Cabinet has a mortgage on knowing all the ins and outs of Government. On another occasion, I observed Perron trying to come to grips with a complicated Treasury advice (I suspected it was by design meant to be complex for mere mortals like Ministers of the Crown). After the fourth attempt and the building exasperation of the Chief Minister, Perron looked into the eyes of the officer concerned and said slowly and deliberately:
"You get one more attempt to explain it to me, after that if I still don't understand it you'll be looking for a new job and someone else will be explaining what you have comprehensibly failed to do so far - explain it to me".
Needless to say suddenly there was a layman's explanation forthcoming. Apart from 'in committee' sessions, the Under Treasurer and Secretary of the Department of the Chief Minister always attended Cabinet, the latter acting as Secretary to Cabinet. By reason of such an entrusted engagement these two positions should be political appointments in the sense that the bureaucrats concerned must be 100 percent + aligned with the elected Governments agenda. For the record, I don't accept that someone of a different political colour can serve in those positions. They are clearly conflicted before they start.
On becoming Chief Minister, I entrusted to Peter Conran the role of aggressively 'sifting the chaff from the wheat' when it came to Cabinet Submissions. This approach did not please some of my colleagues who given a free hand would bring everything to Cabinet rather than make a decision. The real challenge was in getting the balance right. If a decision impacted whole of Government it was essential it came into the room, likewise those that had a 'political' outcome. Every so often I would scratch my head at something that was done without all of us in the loop oblivious to the political consequences. On more than one occasion I was heard to say:
''You did what?''
Neither my Government or Perron's were special on that front; it happens across the board. I had a simple rule with my colleagues - tell me the truth, the whole truth, warts and all and I will stand by you. Lie to me and you'll be gone long before your feet hit the ground. As an aside, there was no freedom of information legislation in place back then nor did I support such. Based on the way it works Australia wide it's a waste of time and resources. Media love it because they believe it gives them a capacity to pry on Government ostensibly in the public interest. What poppycock; all it does is help sell newspapers and media content. Meanwhile, a legion of public servants have been drafted to the cause to engage in the myth of public disclosure as great swaths of material is excised and 'blacked out'.
Those Ministers who don't prepare for Cabinet did themselves and their colleagues a disservice. On my watch, you could always tell who hadn't done their homework. We all lived busy lives but preparation makes for concise discussion and an informed decision. Invariably, the person banging on about something was the one trying to play catch up. I ranked my colleagues in two groups – a minority consistently under prepared flew by the seat of their pants; the majority were conscientious in their preparation and it showed. At times, some of us got lost in the detail, myself included. In the case of Barry Coulter, his breadth of understanding across Government and his corporate memory was unrivalled. Mick Palmer had an eye for the trivial and was always able to add something to the corporate memory and most importantly, on my watch, the Treasurer Mike Reed was always superbly organized in his preparation – he had to be. Mike Read was a very good Treasurer and worthy successor to Barry Coulter as evidenced in my chapter on Territory Finances. The contribution over time of officers attending Cabinet meetings during the Perron and Stone Governments of Neil Conn, Ken Clarke, Peter Conran and Col Fuller were defining. The occasional attendance of Public Service Commissioner, David Hawkes, always added value.
In more recent times, I understand that some not connected with Government have been permitted to attend and address Cabinet. I am appalled by that revelation, if true. I can only attribute such a practice to rank ignorance of the sanctity of the Cabinet room. If business people or others have something to say to Cabinet if its deemed that important, then a boardroom is appropriate. Trying to impress visiting business people by such stunts seriously discounts the importance of the Cabinet process. Likewise, Chief Ministers who believe that they need to travel abroad to pay homage to those doing business in the NT have got the cart before the horse. You are not only the Government you are in power; something I learned from Perron who stood up to BHP and their antics on Groote. If you are privileged to serve as Chief Minister then start behaving like one.
Parliamentary and public performer
I worked hard on my parliamentary performance from the day I walked into the Chamber. Without exception, I was always prepared and tried hard to deliver my speeches unscripted, apart from Ministerial Statements. It is a great Westminster tradition to speak without notes, largely lost on MPs today. Jim Killen and Fred Daley were wonderful to watch in the Federal Parliament. John Howard perfected the art as did Peter Costello. Kevin Rudd and Julia Gillard held their own but Keating was the best on that side for a long time, and since.
As a former teacher and barrister, I was well practised in making speeches in front of strangers. However, it was 'the brothers' who taught me the craft of good speech making. In the event that I had a major speech to make I would practice in front of the bathroom mirror; at times, Josie was my only audience. I would spend hours preparing, committing to memory to get it right. I was always prepared – precise, passionate and to the point. In the parlance of political strategists, I could 'hold a line', deliver a message, or 'nail it' as Mark Textor would say. On my retirement from the Assembly, journalist Nikki Voss wrote in the NT News:
"Every interview or public address was a masterful stage performance" and, "his casual abandon and his disarming control of the floor transformed political reporting from a chore to a form of entertainment".
I was happy to have the compliment notwithstanding some of the other unflattering observations she made. I made the most of the opportunities to speak; once in Hansard it is forever on the public record. I used the Adjournment Debate as an effective tool to communicate with the electorate – to talk about individuals, families, new initiatives and policies. Cynics in my midst would make light of my tributes to the deceased. As I got to my feet Mick Palmer would interject ''Bring out your dead'' - disrespectful bastard. Those who were the subject of my Parliamentary contributions (including families of the deceased) always received a bound copy of the speech and a personalized letter. I adopted the same practice for photographs taken by Bert Weidemann who followed me around with his camera poised for every occasion. The Image Archives are a testimony to his work. The Index to all my speeches in the Legislative Assembly are accessible in Archives Documents. I have undertaken a rough analysis of those speeches from 4 December 1990 to 21 February 2000.
| Debate | Contributions |
| --- | --- |
| Address in Reply | 3 |
| Adjournment Debate (topics) | 913 |
| Ministerial Statements | 40 |
| Bills | 228 |
| Motions | 201 |
| Matters of Public Importance | 11 |
| Petitions | 10 |
| Committee Reports | 1 |
| Condolence Motions | 11 |
| Matters of Privilege | 2 |
| Tabled Papers | 20 |
| Personal Explanations | 8 |
My criticism of MPs today is that too many speak in such convoluted style and language that most people don't know or understand what they are talking about. Marshall Perron taught me early on that sometimes it's as important what you don't say as what you say. My simple advice to those starting out is when you have something to say be on target and make it count. Plain speaking is what people want to hear; keep it simple and don't talk down.
One of the greatest compliments I ever received was from a lady after I spoke in the Hall of the Legislative Assembly about what it meant to be a Territorian and the opportunity the Territory presented. I had a recurring theme:
''You can be anything you want to be in the Territory''.
In passing she said ''you make the hair on the back of my neck stand up. I'm so proud to be a Territorian''. I never forgot her passing remark and never underestimated how, through good speech making, you could inspire and lead. On another occasion speaking at the dedication of the Liberty Square as part of my speech I said:
"Do you remember Self Government Day 1997 - I do. Doug Gibbons arranged for a giant Territory flag to be parachuted down onto the Esplanade – as it came down the thousands present looked skyward. I looked at the crowd. Children watched in awe the giant flag cutting through the breeze of that perfect dry season day. Men and women stood there tears in their eyes. As Chief Minister I thought it's not just our flag – it's a symbol of who we are and what we have achieved. Every time you look at that flag remember that first act of Self Government, fought for and won against Labor as Paul Everingham unfurled the symbol of our future, our hopes and aspirations for on that day we came of age".
This sentiment has consistently been questioned by my critics including Professor Emeritus David Carment AM formerly of Charles Darwin University. David and I also had a very public disagreement about the Darwin Rebellion the day of the unveiling of the Liberty Square commemorative plaque.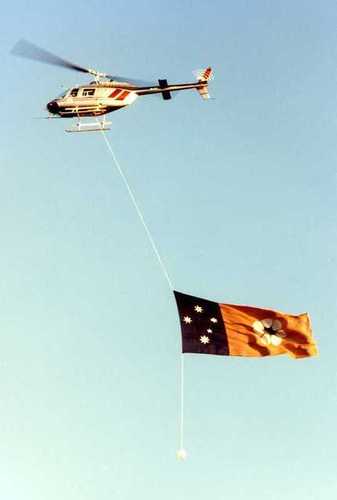 In my speech making I very deliberately sought to 'tap' the sentiment that the Territory was different and Territorians a people apart. We were the last of the real Australia - our own brand of State nationalism where the interests of the CLP and the people were aligned. The CLP colours had always mirrored the same comprising our NT flag, unique in that it was among the first not to feature the Union Jack. Together with the ACT, we are the only two jurisdictions that don't feature the Union Jack in our flag. Our political opponents sought to ridicule the symbolism of the CLP, the wearing of the flag in the collars of Ministers and senior bureaucrats, the ties and scarves. We were further accused of using Public Works signage highlighted by black, ochre and white as a form of subliminal endorsement of the CLP. After 2001, there was a half-baked attempt under the Labor administration to introduce into NT Government signage red and blue. The colours and symbols were important but it was the history that mattered and how we told the story.
The messaging was precise and we knew the narrative - the CLP was the Territory party representing the hopes and aspirations of Territorians whereas Territory Labor was just an extension of the Federal ALP doing Canberra's bidding in the NT. During a visit to Darwin in 1998 Prime Minister Howard observed:
"I am glad to say after I wandered around meeting as many people …I have found here a sense of infectious enthusiasm and optimism that I don't think I have found anything quite in the same quantity as anywhere else in Australia".
Good speech making inspires. A narrative is an important part of every speech. A good speech maker is a good story teller. History is dotted with great speeches where people 'moved mountains' in response. My task was to get Territorians moving in a particular direction - to embrace the region, be innovative, work hard and most importantly believe in themselves. I was forever mindful of Adlai Stevenson's introduction of John F Kennedy in 1960 when he said:
"Do you remember that in classical times when Cicero had finished speaking, the people said, 'How well he spoke' but when Demosthenes had finished speaking, they said, 'Let us march'.
It is one thing to make a good speech, another to inspire your audience to action. I wanted Territorians to stand tall, proud, confident and determined. In my Maiden Speech I observed:
"The Territory has been built by those who had the opportunity and seized on it without complaint".
Against a background of enthusiasm, optimism and belief in who we were, I wanted Territorians to seize the moment, to march and they did – we had a national and regional profile across many areas of endeavour. The rest of Australia knew who we were and attempts to slap us down did not go unanswered.
There were many good speeches made in the Assembly in the time I was there. Two particularly outstanding contributions I recall from the Assembly belong to Brian Ede and John Elferink. Brian Ede spoke of attending yet another funeral in his electorate of a friend, an Aboriginal man. He spoke from the heart of the emotional roller-coaster of burying his friends as their lives spiralled out of control. John Elferink bared his soul in recounting the abuse he had suffered as a teenager at the hands of a sexual predator. It took guts to make that speech.
Closer to home I am delighted to report that my daughter Madeleine has developed impressive oratory skills of her own. Madeleine delivered the 2012 Valedictory Speech on behalf of year 12 girls at the Stuartholme School Brisbane. At 16 she delivered an exceptional speech beyond my expectations. The speech is available at Archives Audio.
---
Next: Chapter 10: The Ministry